https://georgevangrieken.blogspot.com/2022/05/may-9-2022-general-chapter-46.html?fbclid=IwAR2ahpXyzVQn8xvPwqS-pIdj7ZwGhhZ-NuPeczCM0lQSg20cv6PEd48eqfw
The very first overview of the day, presented by Br. Jorge, recognized the fact that participants in the Chapter has expressed their interest in spending more time talking about the presentation that Paco and Heather had made about the Secretariat of Association, and so the schedule was adapted to accommodate that desire. We would spend out first hour discussing their presentation and answering questions from the Chapter delegates.
A very rich discussion period followed. Just some highlights that are entirely personally chosen:
What is the mechanism in which we associate others in decisions about the mission? Decisions are made through a vocation, through dedication to the mission, through holiness. Answer: experiential formation is needed by all in the Lasallian mission. Look at Circular 475 to see how vocations are developed. All Christians are called to holiness, and all of us share this concern for the mission. There could be poorly trained Brothers. not only lay people.
Charismatic families in other congregations have a council so that they can make official what it means to be part of that charismatic family. Shouldn't we have the same thing? Answer: Not yet. We don't have an established standard of identity for the Lasallian Family. Perhaps later we can begin a process for a letter of identity. For now, the Letter to the Lasallian Family suffices.
A concern was expressed that we are not an NGO. The institute is a public expression of the church.  If we don't reference the Rule, I don't know how we talk about association. The Rule manifests the character of the Institute and gives the meaning of the Brothers life. Answer: The work of charismatic families is also a public work to be present in the Church. Religious life doesn't fill the entire charism. Therefore, the Rule doesn't apply to lay people; it applies to the Brothers. We need to adjust ourselves to journey along together.
The model of association needs more study. The Institute needs more models of association. But maybe we don't give a lot of value to the vocation of the Brother. Perhaps we're guilty of something. We have to improve, to look at our history, and to revise our structure. This is the institute of the Brothers of the Christian Schools, with our lay partners in different models of association. Answer by Heather: "AIMEL in one of its proposals calls for more structures of association. In terms of the Brothers vocation, I don't want to be a committed member of the Lasallian family without the Brothers. Many Lasallian Partners are working hard to ask young men to join the Institute – perhaps more than some Brothers. My vocation as a committed Lasallian Partners is not there because there are few brothers in my district, but because I've been called to serve young people – that's the Holy Spirit; not a statistic."
More questions of the a similar sort ensued. At 10:00 am, Sr. Leslie introduced the next step in the process, whereby we will generate collective sharing and awareness, paths in the midst of diversity. The primary question is "What is the challenge that the Institute has at this time? What is it that impels me towards the future? Where do we want to give our mark, our footsteps? We will spend some time reflecting on our own and then meet in language groups to come to an shared understanign of our primary challenge or vision, and we will determine the three conditions or aspects of our present reality that are needed to address that challenge. (I know that some of this seems like corporate speak, but it made sense to us and was explained well.)
When we did get together, we again did the Phillips 4, 4, 4 method so that small group conversations turned into larger group conversations, whereby our thoughts were unified into a single statement.
There was a break for lunch and some rest before resuming at 3:00 pm. Since this was my 70th birthday, the midday meal included a large cake and an enthusiastic singing of "Happy Birthday to You" on the part of the 70+ delegates, with myself standing next to the cake. It's always a nice and slightly awkward position to be in. While I'm not one to really relish such singular attention, I also must say that I was touched by the sincerity of the sentiments expressed. The Brothers really are very kind in situations such as this. The cake was cut and Brothers jumped in to help with the cutting up of the cake and the distribution, Thankfully, there was just enought to go around.
Resuming our work at 3:00 pm, we returned to our language groups – ENG2 for me – and worked on creating a "challenge" statement and three "conditions" that would help make it possible to begin to address that challenge. Some members of our group were very practically minded and helped us refine some intitial proposed language so that it simply and strongly said what we wanted to say. I'll just share what our group said our challenge was: "We are challenged to deepen our commitment to become Gospel witnesses of communion that compels us to further respond to the educational service of the poor." Our group was fairly homogeneous about the details and we finished our work at around 4:00 pm, which gave me time to go to my office and do some of my other work until 5:30 pm when everyone would return to the Aula Magna to report the results from their group.
The six groups dutifully did so within about 18 minutes, although an hour had been scheduled. There were few questions. The rest of the time was given to general input, opinions, or concerns. It was an engaging and rich exchange. Among the highlights:
How does our education offer an emancipatory and liberating education for the marginalized, especially communities that have been "made poor" by society over the years?
What does "charismatic family" mean? Answer: The definition comes from the Union of Superiors General: People from different states of life who recognize themselves as belonging to the same charism as the Founder and united in the family of Christ.
There was an expression of concern about the next step, in which representatives of the six groups will meet this evening to create a single "challenge" and three "conditions" from the ideas submitted by the six language groups (two Spanish, two English, one French) in such as way that it will make all of us feel included and specific enough to be transformative. A difficult task
We should be careful about using the expression of "charistmatic family." The Lasallian Family is more inclusive than the charismatic family – perhaps this is not the most adequate expression for the Lasallian world, since we are in locations that are not largely Christian and yet have a real impact there.
The last intervention shared five terms that stood our to this delegate as key, especially since they represented the "God possessed" notion highlighted by our first speaker. The terms were prophetic, consciousness shift, charismatic, founding intuition, and gospel fraternity.
It should be noted that while these are long days for the participants of the Chapter, some members would spend even longer in either writing up the minutes (the appointed secretaries) or meeting to consolidate input from the various groups. This evenning's work in that respect will be key.
After some announcements from Br. Jorge Sierra, the session was closed at 6:30 and Mass followed at 6:45 pm – with French hymns. After dinner, there was a social for the general group, although perhaps only twenty people were there. People are getting a bit tired and probably cherish their own time. 
It's clear, however, that we've embarked on the "next phase" of our process, during which we will begine to establish our primary directions and focus. Tomorrow the group that is consolodating our language group reports will provide a single "challenge" – supported by threee "conditions" – that will be presented, discussed, and voted on by the assembly. It's a challenging task for that group, and I look forward to see the fruit of their evening labors.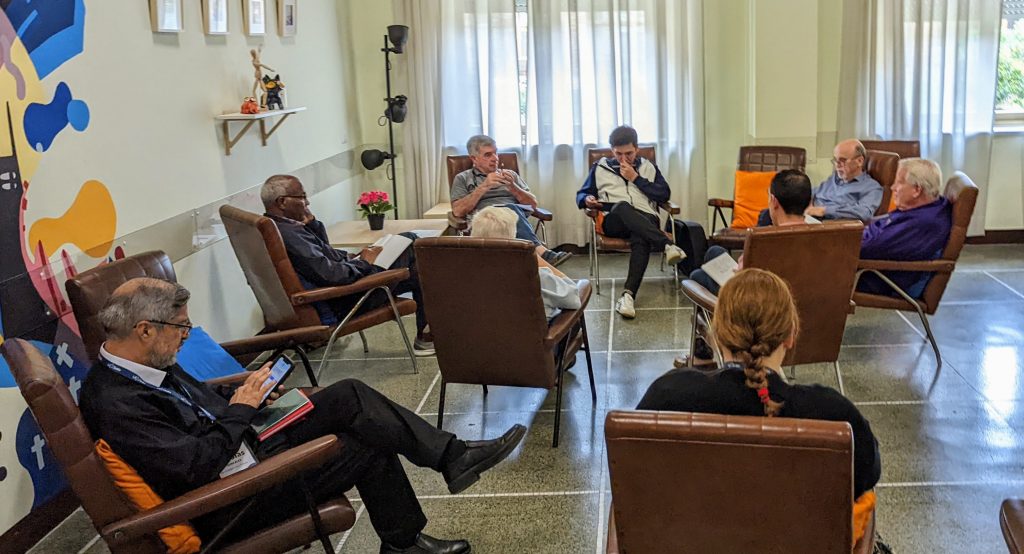 La deuxième semaine du Chapitre Général #FSC46GC a commencé. Les Frères Capitulants continuent avec l'Audace de la vérité, à définir les rêves et les objectifs pour l'avenir de la Mission lasallienne. Nous partageons avec vous le résumé de la première semaine. Ensemble, nous construisons des chemins pour transformer des vie.